CTGi provides an economical, highly advanced and realistic fetal heart rate monitor simulation package.
Using just two iPads, the lightness and simplicity of CTGi makes it ideal for in-situ training. CTGi gives facilitators a great tool for training and students an incredibly realistic platform to learn from. CTGi offers obstetric simulation as you've never seen it before, built off technology you use every day.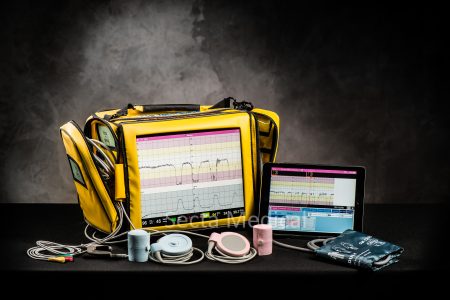 THE BEST EXPERIENCE POSSIBLE
We built off the back of the best in user interface technology with the Apple iPad. If you own or use a smartphone or tablet, you'll already know how to use CTGi. Our gesture based control panel is built to provide advanced functionality without the complexity of traditional systems.  We use the best of mobile technology to provide a seamless user experience from start to finish.
PORTABLE & PROTECTED
Place your CTGi monitor inside a stand to make the system portable and protected. This system combines all the advantages of the aluminium Enclosure and Security Lock, with an all-in-one counter-top bracket, making it a perfect all-inclusive iPad security kiosk, iPad Air Kiosk for health-care.
REALISTIC IN FUNCTION & DETAIL
Manage mother & child vitals, introduce decelerations & contractions. Everything CTGi offers is aimed at enabling you to create traces that are every bit the real thing, easily.
TRIAL CTGI
Why not see what all the fuss is about. You can trial CTGi for 30 days and see if it works for you. We offer full support while you trial our systems, so what do you have to lose?
CTGI FEATURES 
Using just two iPads, the lightness and simplicity of CTGi makes it ideal for in-situ training. CTGi gives facilitators a great tool for training and students an incredibly realistic platform to learn from. CTGi offers obstetric simulation as you've never seen it before, built off technology you use every day. CTGi has many features that will simplify and enhance your simulation experience. Both user and facilitator will benefit from the advanced features of CTGi
World's first tablet based, real time cardiotocography simulation technology
Powered by iSimulate's realistic, intricate and powerful ActiveWave technology
Create and run realistic simulations quickly and easily
Review, annotate and teach
Name, save and replay scenarios and traces for teaching
Ultra-intuitive and feature driven
Turn your low fidelity situation into a high fidelity simulation
Use CTGi to create hours of traces